HP Officejet 8600 Printer Series Review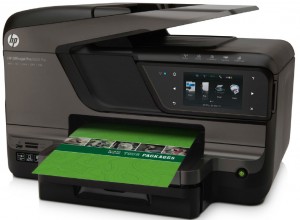 Let's take a look at the Officejet 8600 series printers from Hewlett Packard. There are 3 separate models to chose from this line. They all print, scan, copy and fax for ultimate convenience. Performance wise, they print up to 18 pages per minute and the quality is as sharp as a laser printer. The paper tray allows you to use different size papers.
1.) HP Officejet Pro 8600 e-All-in-One
Cost: $200
It has a 2.65" touch color screen display.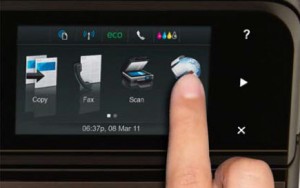 It has a sleeker chassis from their previous model with a 350 sheet input tray on the front and a 50 page feed tray on top. The top tray makes it really easier to drop a stack of documents for coping or scanning.
It can connect the internet through an Ethernet cord or by wifi. All the printers are compatible with Google cloud print as well as Apple air print, which makes it really easy to setup a wireless connection with your wireless network or IOS devices. These HP printers also give you remote printing by way HP calls ePrint. The way it works is that, each device comes shipped with its own unique email address that lets you save to your contact list then you can use that address to send print jobs from any web connected device. That works really well when you see an article or photo on your phone while you're traveling that you'd like to have waiting for you when you get home.
2.) HP Officejet Pro 8600 PLUS e-All-in-One
Cost: $300
It has a larger 4.3" touch color screen display. The only time you would need this would be when you start browsing through the HP ePrint app store. The home screen on the control panel has an additional icon labelled APPS that lets you add new icons on the display just like you would on an iPhone.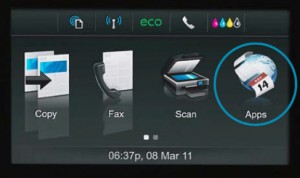 There's quick APPS available for news, weather, arts and crafts as well as printable games for the kids.
You can also automate those APPS to download content and print them out at the same time every day if you are a fan of their functionality. The other notable feature is that it has automatic two-sided copying, faxing and scanning.
3.)HP Officejet Pro 8600 Premium e-All-in-One
Cost: $400
It gives you an additional 250 sheet paper tray, an additional set of ink cartridges, and a 50 sheet pack of premium glossy brochure paper, along with the 4.3" color touch screen display, the APPS, and ePrint.
But no matter which one of these printers you pick, you will definitely be satisfied with its print quality, the print speed and reliable performance. We recommend these printers for personal home use as well as businesses. Its breadth of connectivity options and cloud printing ensure its longevity in the marketplace. It's compact footprint relative to its features won't take up that much room on your desktop. When you need ink cartridge replacements, try some of our cheap HP ink cartridges, sold at discount prices.