This may be the most eye catching development in 3-D printing since it was first introduced in 1980. It's a 3-D drawing pen. It uses photo-polymers and UV light to draw in vertical space. It's called CreoPop, the coolest pen around. The light sensitive ink is solidified by shining ultra-violet light on it.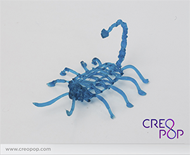 All of the 3-D pens out there melt plastic do dangerously hot temperatures. Just think about what would happen if somebody, especially children, gets melted plastic onto their skin or in even in their eyes. In addition, you get a quite unpleasant smell when you use pens that melt plastic and is just not nice a home environment.
The CreoPop 3-D pen does not melt plastic, there are no hot parts and no bad smell. It's the perfect tool for anyone wanting to create their own designs, their own shapes and in many different colors. It's great for kids and brings drawing to a whole new level. Kids can make jewelry, customized clothes for their dolls and even their own special toys.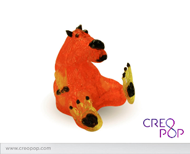 They make many types of ink:
magnetic ink - that can be used to make refrigerator or whiteboard magnets
glow in the dark ink - so you can make objects that radiate light in a dark room
aromatic ink - so you can make items that smell really good such as a bathroom or car fresheners
temperature ink - paint a coffee or tea cup and see how it changes color when you pour a hot liquid
body paint - since it uses cool ink you can make tattoos and henna designs
It's an extremely novel idea never seen before, it's a KOOL pen.