Xerox Phaser Solid Inks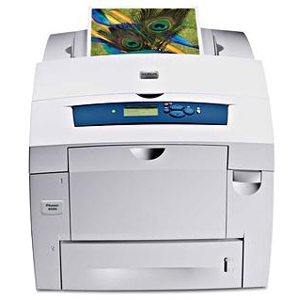 For most of us, when we hear the word ink, we directly think of a colored liquid substance which could make a bad stain when handled improperly, aside of course from it being the basic component of pens and markers of course. There is one type of ink however that is still quite new to the public knowledge but has existed since 1986 and this technology is called the solid ink technology. One of the newest solid ink printers to hit the market is the Xerox Phaser 8860.
As you may have guessed it right, this technology uses Xerox solid ink sticks other than ink in the liquid form or the toner. Solid ink is usually used in printers used to produce graphic arts and basically is undergoing the same process as offset printing. The ink sticks are loaded in the printing machine before it is melted to produce images and text on paper.
The solid ink technology promotes an environmental friendly production of the ink itself because it minimizes waste disposal as compared to the other types of ink. It is also proven that in terms of print quality, solid ink produces more vibrant color output than regular ink. It is even made in such a way that different colors are shaped differently into blocks to avoid mixing of the sticks in their respective color slots. All in all, the solid ink technology is an advantage for those who are into fast pace production and quality print output. It also prints to almost any type of paper medium making it applicable to thick or even recycled paper. From this fact alone, solid ink technology is one sure way to boost profit and output in an environmental friendly way.
There are only two major brands of printers using the solid ink technology, Xerox and Tektrontrix, which was bought out by Xerox in 2000. The next concern is therefore; will there be an alternative source for cheap solid inks? The answer is InkCloners.com.
InkCloners.com also has compatible Xerox phaser ink for the following popular printers:
Our site offers discounts making you earn big savings. You can download a copy of the Xerox 8560 Phaser service manual here.. We offer high quality compatible solid ink dubbed cloned Xerox solid ink sticks. InkCloners.com is the best source for all your solid ink compatibles and is sure not to disappoint you in anyway.
Solid ink technology is one environmental friendly method in the printing industry. And it is also compared to have quality outputs. Now it is also your advantage when you own this type of printer to avail of cloned solid ink. The quality is the same but the price is the major difference.